Morty Kaplan (of blessed memory)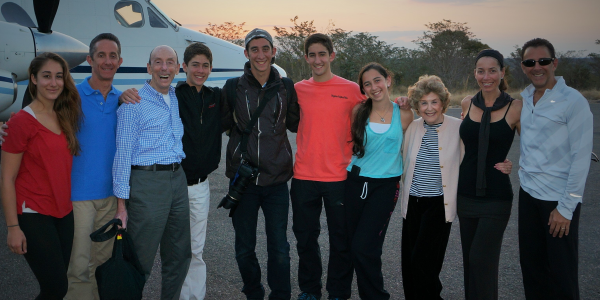 For Morty and Linda, life is about family and ensuring their values live on from generation to generation. Morty and Linda moved to Miami in 1965 when their two sons, Ian and Howard, were 5 and 3 years old. Shortly after arriving, they became involved and found a meaningful connection through friends at the Greater Miami Jewish Federation and Temple Emanu-El. They went on their first trip to Israel in 1967 through the Federation, shortly after the Six Day War, which strengthened their commitment and involvement with the Jewish community. Ian and Howard each had the opportunity to travel to Israel and live on a kibbutz for a summer during their teenage years.
Growing up as a child in the Germantown neighborhood of Philadelphia, Morty experienced Antisemitism. He recalls his father's concern about what was happening in Europe in the 1940s. He often saw his father contributing to Jewish causes, even when he did not have the funds to fulfill his pledges. That message of needing to take care of the Jewish people stuck with Morty through military prep school, college and while serving in the Korean War. These experiences shaped his commitment and desire to give back when he could as an adult.
Morty and Linda have been steadfast contributors to the Greater Miami Jewish Federation for more than 50 years. Their desire to involve their children and grandchildren led to their establishment of the Kaplan Family Foundation in 1993, a donor-advised fund of the Greater Miami Jewish Federation. The fund has grown significantly over the years and continues to make meaningful grants in support of Jewish and secular causes. Currently, they are in the process of engaging their five grandchildren in the family foundation to ensure the impact and continuity of their family philanthropy will last for generations to come.
Morty passed away peacefully in August 2022 at the age of 92 surrounded by his loving family. Today, Morty's legacy is carried on by his wife Linda, his sons Ian and Howard, his daughter-in-law Andréa, and his five grandchildren: Lauren, Josh, Jordan, Jared and Joelle. May Morty's memory be a blessing!
To learn more about how you can create a donor-advised fund, click HERE.