Sydney & David Schaecter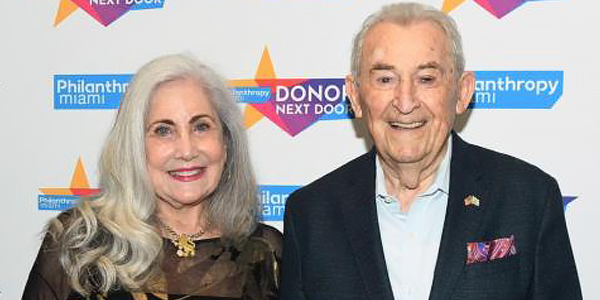 Sydney and David Schaecter have been leaders and generous supporters of our Miami Jewish community for more than 60 years. Most recently, they were honored as the The Foundation of the Greater Miami Jewish Federation's "Donors Next Door" at a community-wide luncheon sponsored by Philanthropy Miami.

Born in a small village in Czechoslovakia, David was a young boy when the Nazis rose to power in Germany and is the only member of his family to survive the Holocaust. His story was captured on film in 2018 by producer and world-renowned Holocaust scholar Michael Berenbaum in the documentary entitled "A Call to Remember: The David Schaecter Story." A founder of the Holocaust Memorial Miami Beach, he has shared his story with students of all ages including more than 8500 high school students that he has accompanied on many March of the Living trips to Poland and Israel.

To ensure that the Miami Jewish community and the Holocaust Memorial Miami Beach continue to thrive and serve future generations, David became a Forever Pacesetter and established Lion of Judah Endowment Funds in memory of his first wife Marvis and in honor of Sydney for their dedication to the Jewish people as proud Lions of Judah. He has also made a significant financial commitment for the future education center that will be built at the Holocaust Memorial Miami Beach. These generous contributions were made from the proceeds of a sale of real estate property. To learn more about making a gift of real estate, visit: What You Can Give - Land & Real Estate.

"Most importantly," said David, "my legacy and my story will continue through the countless number of students who I have met through the Holocaust Memorial and the March of the Living. In my conversations with them, I have told them to not only hear, understand and remember my story, but also be my mouthpiece when I'm no longer here. I don't know a better purpose than that."

Check out our Book of Life to read David's full story.

To read more donor stories, check out our Book of Life.